Friday, August 31, 2007
Schadenfreude - making the world a better place to be!
Thursday, August 30, 2007
I don't have a license, but I drive very well, officer!
You know, I do have a birthday coming up...
Wednesday, August 29, 2007
Don't get ideas...
Leona Helmsley's will leaves $12 million to her dog
.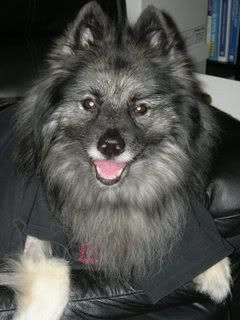 "Are you feeling OK, daddy? You look a little pale."
Not going to happen, Koshka.
On a side note, I swear we have a rule in our house about not putting clothes on the dogs, but Koshka had just been in for a liver biopsy and putting a shirt on her was the simplest way to keep her away from her stitches.
And I hate to admit it, but she looked adorable in the shirt. (She's fine, her stitches are out and the shirt is gone.)
I must remind myself of the rules of dog ownership: First rule of dog ownership, you do not put clothes on dogs.
Second rule of dog ownership, you do
not
put clothes on dogs. (Unless medically necessary.)
Third rule of dog ownership - insert cheap Michael Vick joke here.
Sunday, August 26, 2007
Who rules the world?
Today's lesson
Thursday, August 23, 2007
Fantasy Football - the rest of the story...
Happy now, Summers?
What, no Zan and Jayna?
Wednesday, August 22, 2007
Never marry a forensic scientist
Tuesday, August 21, 2007
Celebrate good times, come on!
A long time ago, we used to be friends...
Monday, August 20, 2007
Dog day afternoon...
Romance isn't dead - but it's lucky to be alive...
I think it was the word "youngling" that lost everyone...
Sunday, August 19, 2007
The mystery is solved...
It's your fault they weren't cold
Friday, August 17, 2007
Southern Stereotype Department
Thursday, August 16, 2007
On the meaning of "everywhere"...
Wednesday, August 15, 2007
Maybe you should mow more often...
Clock striking midnight?
Hope he's got a comfy couch...
Sunday, August 12, 2007
On the one hand...
Thursday, August 09, 2007
Now everyone will believe he's not a kook candidate...
Wednesday, August 08, 2007
Trial of the century - talentless rock star edition
Mystery surgeon removes man's testicles - police baffled.
Job opening in airport security
Tuesday, August 07, 2007
Line of the day...
Friday, August 03, 2007
The really important question: Do we have to put the money back in his freezer?